Latest uploads
Ketogenic diet for schizophrenia: clinical implication

Schizophrenia is a devastating neurodevelopmental disorder characterized by a complex set of symptoms, including hallucinations, delusions, stereotyped behaviours, social withdrawal and impairment in executive function and attentional processes...
Sarnyai, Zoltan et al.  - Current Opinion in Psychiatry...
Prenatal diagnosis of methylmalonic aciduria from amniotic fluid using genetic and biochemical approaches...

The biochemical analysis, which could identify the status of 99.5% of fetuses, should be used when the genetic results are inconclusive in prenatal diagnosis. Among the four tested biochemical markers (propionylcarnitine [C3], C3/acetylcarnitine...
Xing Ji et al.  - Prenatal Diagnosis 2019;...
Evidence- and consensus-based recommendations for the use of pegvaliase in adults with phenylketonuria...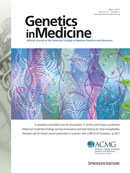 Phenylketonuria (PKU, OMIM 261600) is a rare genetic disorder caused by pathogenic variants in the phenylalanine hydroxylase (PAH) gene, which results in elevated phenylalanine (Phe) concentrations...
Longo Nicola MD et al.  - Genetics in Medicine 2019;...
Revising the Psychiatric Phenotype of Homocystinuria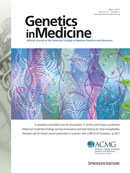 Homocystinuria (OMIM 236200) is a rare autosomal recessive metabolic disorder due to a defect in the cystathionine ß-synthase (CBS; EC 2.5.1.134) enzyme encoded by the CBS gene (OMIM 613381) (ref. 1). Classical homocystinuria...
Almuqbil Mohamed A. MD et al.  - Genetics in Medicine 2019;...