Latest uploads
Novel mutations causing biotinidase deficiency in individuals identified by the newborn screening program...

Biotin is a water‐soluble vitamin regarded as essential because it is not synthesized by the body. Biotin is responsible for gluconeogenesis, fatty acid synthesis, and branched‐chain amino acid catabolism. Biotin acts as a coenzyme...
Nara O. Carvalho et al.  - American Journal of Medical...
Combining newborn metabolic and DNA analysis for second-tier testing of methylmalonic acidemia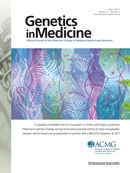 Newborn screening (NBS) using tandem mass spectrometry (MS/MS) represents a major advance in our ability to detect inborn metabolic disorders that have historically caused significant morbidity and mortality in children.1–3 Using MS/MS,...
Peng Gang PhD et al.  - Genetics in Medicine 2019;...
Methylmalonic acidemia/propionic acidemia – the biochemical presentation and comparing the outcome...

Methylmalonic acidemia (MMA, MIM#251000) and propionic acidemia (PA, MIM#606054) are autosomal recessive organic acidemias that are characterized by the accumulation of methylmalonate or propionate due to a defect in either methylmalonyl-CoA...
Chu Tzu-Hung et al.  - Orphanet Journal of Rare...
Effect of a four-week ketogenic diet on exercise metabolism in CrossFit-trained athletes

Carbohydrates (CHO) and fat are the main sources of fuel oxidized in muscles during exercise [1]. In contrast to fat, endogenous stores of CHO are limited. The storage form of carbohydrate, glycogen, is found almost exclusively in muscle and...
Durkalec-Michalski Krzysztof et al.  - Journal of the International...